Alex Nelson is a Brisbane Barrister specialising in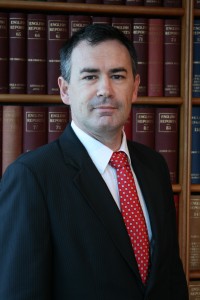 defamation.
He knows that preparation and planning are the keys to the successful resolution of any matter, whether in court as a Barrister or in a mediation.
Alex has more than 20 years of legal experience including his time as an Army Legal Officer, 10 years as a solicitor in private practice and 9 years as a barrister.  He is also a Nationally Accredited Mediator.  This broad experience enables him to bring a creative approach to resolving disputes, finding leverage where others have so far been unable to.
Alex regularly appear in courts and tribunals in Brisbane, Sydney, regional Queensland and Northern NSW.  He has proven himself in court with great results including:
Grattan v Porter (2016); defamation judgment in the Queensland District Court for the Plaintiff, $150,000 plus interest, indemnity costs and a permanent injunction
Petty v Zhao (2016); defamation judgment in the NSW District Court for the Defendant
Sierocki v Klerck & Ors (2015); defamation judgment for the Plaintiff in the Supreme Court of Queensland
Acquittals for Murder and acquittal for Manslaughter and other serious charges.
Successful in obtaining leave to appeal 12 years out of time and in reducing the sentence from 20 years to 13 years.
Obtaining judgment in the Supreme Court of Queensland against 5 defendants under r374 for non compliance with rules and orders (the "no shenanigans" case) and then successfully opposing an appeal against that judgment.
Obtaining Queensland's highest general damages award for defamation since the introduction of the national uniform Defamation Acts.
Setting aside (or supporting as the case may be) Statutory Demands, appearing in winding up applications and associated litigation.
You can trust him to have read the brief thoroughly, to know the facts and to apply them to the law, achieving the best possible outcome for the client.
If you are involved in a defamation dispute and would like Alex Nelson to assist you or to appear for you in court, he can be contacted as follows:
95 North Quay, Brisbane Qld 4000
0402 227 498
alex@alexnelson.com.au
Liability limited by a scheme approved under Professional Standards Legislation.